19k hotel rooms set to enter New York by 2020
1 August 2018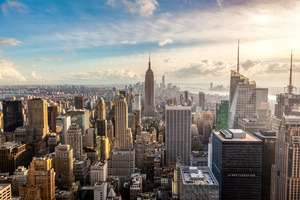 For the city that supposedly never sleeps, there's certainly no shortage of people staying over.
New York continues to experience new hotel supply developments because every owner, brand and developer wants what virtually no other city in the world can offer on the same scale: visibility.
Massive supply growth is the biggest issue on the horizon for NYC hotels, along with Airbnb's strong presence. For consumers, Airbnb and new hotel developments in the upscale segment have made the market more affordable for many visitors, although New York's ADR (average daily rate) is still one of the highest among major global cities.
Looking ahead
AM:PM shows that more than 19,000 rooms are set to join the city's existing inventory by the end of 2020, although the rate of supply growth has slowed more recently and occupancy levels are beginning to recover.
Much of the upcoming supply growth is expected to occur over 2019, with more than 9,500 rooms set to come online. In terms of properties, there are currently 666 hotels operating in New York (as of October), which is set to rise to 784 as 118 new hotels come online by the end of 2020.
Hotel demand, however, shows no signs of slowing down. In 2017, New York recorded a 16% increase in the number of nights with occupancy levels above 90%. This has helped boost the market's ADR, since hotel operators are able to drive higher rates on nights when less rooms are available and therefore become more valuable.
New York should start seeing increased performance levels as the market continues adapting to incoming supply. YTD figures through August see a slight increase in occupancy levels, 1.4%, which driven by a similar increase in ADR, 3.2%, has led to a RevPAR of USD207, up 4.6% over the same period in the previous year.
Schedule a live demo
To see AM:PM in action and learn more about how it can help you stay on top of the game and plan ahead, click here to drop us a line. We'd be happy to answer any questions you might have.