Austin, TX: Hotel business keeping pace with strong supply growth
9 December 2018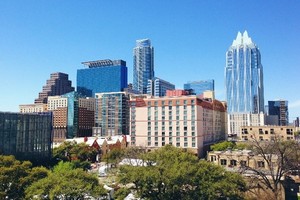 The Texan capital has been one of America's fastest-growing cities in recent years, and this trend has extended to the local hotel industry.
In addition to its thriving economic developments, Austin has become a center for the arts and entertainment. Now in its 31st year, South by Southwest (SXSW) continues to grow in scope and cultural significance. Austin has also been home to the F1 U.S. Grand Prix, hosted just south of the city, since 2012. Along with the exposure these events provide, they also generate considerable hotel business. Each year, Austin's highest occupancy levels and average daily rates (ADR) occur in March (SXSW) and October (F1).
Lay of the land
While Houston and Dallas both operate at circa 90k hotel rooms, Austin has a smaller inventory, with 39,551 rooms across 339 properties. But like its surging corporate and cultural scenes, Austin's hotel market has experienced rapid growth in recent years. Since the end of 2012, more than 10k rooms have entered the market.
When a market experiences supply growth of this magnitude within a relatively short time period, there is typically a clear impact on performance levels.
Supply and demand

In the midst of Austin's booming supply growth, both occupancy and ADR levels have fluctuated somewhat proportionally. While occupancy is obviously pressured by incoming supply, it is reasonable to believe that hoteliers have adjusted room rates at times in an effort to maintain their market share.
In addition to an overall expansion in size, Austin's market landscape itself continues to evolve. A substantial amount of Austin's recent developments have been in the luxury class. The city now has two luxury properties with more than 1k rooms: the Fairmont Austin (opened Q3 2017) and the JW Marriott Austin (opened Q1 2015). Several high-end boutique hotels have also opened recently.
With more rooms at higher price points entering the market, hotel operators gain opportunities to grow average rates. Despite moderate occupancy declines that have accompanied increased inventory, ADR has been fairly stable and continues to rise, albeit at a slower pace compared with peak growth levels in 2014 and 2015, before the effects of supply growth became evident. Also, major events like SXSW and the Grand Prix provide opportunities for hotel operators to charge rate premiums during periods of heightened occupancy.
Pipeline
Performance fluctuations have not seemed to deter investment interest in Austin.
Looking ahead, there are currently 107 hotel projects in the pipeline, accounting for 12,644 rooms. If all of these developments come to fruition, Austin's room inventory will reach 52k within the next few years. San Antonio currently has the third-highest number of rooms in Texas at 47k, but Austin is expected to surpass it in the next few years based on current pipeline projections.
STR maintains an optimistic outlook for Austin's future, but performance results will ultimately depend on how hotels manage their pricing strategies as the market grows increasingly complex and competitive.
Schedule a live demo
To see AM:PM in action and learn more about how it can help you stay on top of the game and plan ahead, click here to drop us a line. We'd be happy to answer any questions you might have.