Dubai: 100k + rooms and counting
10 October 2018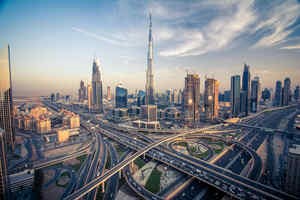 Over the years, Dubai has positioned itself as the Middle East's main transport and business hub, and the market is continuously working on curating a complete, mature hospitality offering.
According to AM:PM's database, there are currently 107,299 rooms across 562 hotels in Dubai. The market's hotel landscape continues to expand and evolve just as the city does, with a major ramp-up in hotel supply in preparation for the 2020 Expo and beyond.
AM:PM shows that there are currently 76,786 rooms in the pipeline. While projects can be put on hold or cancelled for a variety of reasons, there are nearly 45,000 rooms currently under construction, meaning they are expected to come online at some point in the near future.
Demand continues to rise as Dubai continues to develop
"Incoming supply is nothing new to Dubai. The Emirate has grown from 50,000 rooms in 2007 to over 107,000 at present. At the same time the city has totally transformed in terms of infrastructure, inclusive multiculturalism and a much more diverse tourism offering. All to the benefit of tourists as well as residents." says Philip Wooller – STR Area Director Middle East Africa.
Megaprojects such as the Burj Khalifa and the more recent Dubai Parks, Dubai Frame, Dubai Opera and IMG World of Adventures together with the fourth busiest airline in the world and an airport with record breaking arrivals, have allowed hotel demand to almost double as well. Further projects under development include Bluewaters Island, Jewel of the Creek, Marsa Al Arab and the Six Flags theme park. A previously overlooked market segment, Upper Midscale, Midscale and Economy hotels have also managed to double their room count in that same period from 18,260 rooms to now just over 36,000. "Dubai is now in a position to attract pretty much every tourist in the world in one way or another and this is supported by the ambitious plans for Dubai to become the world's most popular destination by 2025. The hotel offering has very much matured and diversified while Dubai ADR is now at similar levels to other megacities such as London, Los Angeles and Singapore and there's still more to come" continues Wooller.
A bigger, broader selection

When a market's hotel supply expands considerably over a relatively short period of time, ADR can change dramatically due to the increased competition. While pricing strategies have likely adjusted to help keep driving demand growth, there is another factor to consider: the type of new hotels being built.
Dubai's hotel supply was previously dominated by properties in the upper-tier classes. Over the last few years, there has been a shift to more mid-tier properties coming online, charging lower rates. Although the upper-tier classes are still growing, this change in the market landscape brings the overall market's average rates down. However, along with continued developments in tourist attractions, this shift also helps demand continue growing as there are more affordable options for travelers across different budgets.
Looking ahead
There is still a high amount of investment interest in Dubai, which does not appear to be dying down any time soon judging by the pipeline. However, STR projects further performance declines for the foreseeable future as supply continues to grow. While this expansion puts pressure on the market in the short term, this investment in the market is expected to have long-term payoffs.
Schedule a live demo
To see AM:PM in action and learn more about how it can help you stay on top of the game and plan ahead, click here to drop us a line. We'd be happy to answer any questions you may have.