Munich to reach 50,000 hotel rooms in 2020
10 December 2018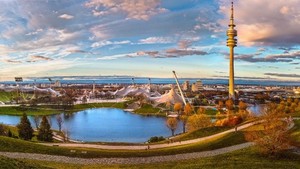 Since the end of 2015, Munich's hotel room inventory has increased 12%, and there is further growth on the horizon. The Bavarian capital is currently home to 463 hotels, accounting for 47,880 rooms. By the end of 2020, Munich is expected to add 7,337 new rooms across 39 projects — a 15% increase to the market's existing room count.
Compared with other key German cities, Munich is the third-largest hotel market behind Berlin (73.2k rooms) and Frankfurt (48.1k rooms). Munich's current pipeline of (12.7k rooms) is the second-largest pipeline in the nation after Frankfurt (13.4k rooms).
Supply growth impacting performance
Over the past few years, supply expansion has significantly impacted Munich's hotel performance. Occupancy dropped 3.4% in 2016, while average daily rate (ADR) rose 1.0%. In 2017, the occupancy decline was more moderate (-0.4%), but ADR fell 4.0%, indicating that hotel operators may have lowered rates to attract business with more competition in the marketplace. This year to date as of October, revenue per available room (RevPAR) recovered slightly compared with the previous two years. While occupancy was down 0.6% through the first 10 months of 2018, ADR was up 4.0%.
Although the market's occupancy performance remains in the red, demand (rooms sold) was up 4.2% through first 10 months of the year. Supply growth has generally eclipsed demand growth over the past two years, but this summer proved that Munich can still experience surges in hotel business during peak times. In June, Munich hosted multiple events, including Automatica 2018 and Intersolar Europe. Occupancy rose 8.0%, while ADR was up 6.9%, resulting in a 15.5% increase in RevPAR for the month.
Investing in events
Event and conference business plays a key role in Munich's hotel business. In October, Global DMC Partners ranked Munich third on their 2018 list of the top 10 international cities for meeting and incentive destinations.
Hotel demand from events tends to be less steady than regular corporate demand. Many large conferences tend to shift locations each year, and many that remain in the same host city do not repeat annually. For markets that rely heavily on event business, this can cause sharp seasonal fluctuations in year-over-year performance levels.
Looking ahead
As Munich's room inventory continues to expand, this should help the market continue accommodating large events, but it may take some time for performance to stabilize during non-peak periods.
Munich remains a city for corporate travelers. Occupancy levels and rates are generally highest on Tuesdays and Wednesdays, with performance dropping off over weekends.
About half of Munich's incoming hotel rooms are in the upper midscale class, which is already the market's largest segment. The majority of rooms currently in the pipeline are set to open in 2019, a potential addition of 4,770 rooms.
Schedule a live demo
To see AM:PM in action and learn more about how it can help you stay on top of the game and plan ahead, click here to drop us a line. We'd be happy to answer any questions you might have.